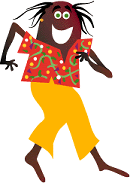 ...
.
...
U. Bean Forti

When U. fills the mall with reggae music from the sunny Carrib-Bean, your shoes and socks will slip right off. Your feet will start dancing, and you won't be able to do anything about it. Surrender yourself. Be Happy!





Copyright 1995, 1997, 2000 Jerry Jindrich.

All rights reserved.