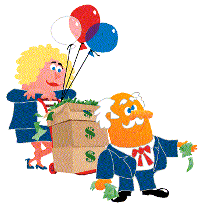 ...
.
...
Senator Bean Doggle

The infamous Senator Doggle and his beantourage are bound to show up in your mall sooner or later. The Senator chairs the Undersubcommittee on Frivolous Beanological Research Grant Applications and Awards. In this role, he travels around the Country, handing out millions of dollars to his pals for a variety of lame studies.





Copyright 1995, 1997, 2000 Jerry Jindrich.

All rights reserved.