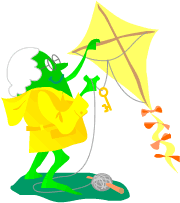 ...
.
...
Beanjamin Franklin

Invented stove, glass harmonica and electric kite (all true). Published Poor Richard's Almanac, a scholarly tome about the Watergate Scandal. (Not related to Beaneatha Franklin, but may be great-great uncle of Werner Von Bean).





Note: The right arrow button will now take you back to the beginning.
Copyright 1995, 1997, 2000 Jerry Jindrich.

All rights reserved.