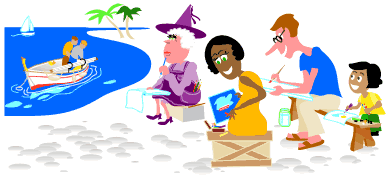 Uncle Dot was down by the fishing boats. He was painting a picture of two fishermen who were working on their boat.

Tippity showed him Margaret's drawing.

"Well, this is nice!" Uncle Dot looked at the drawing and said, "I like the way you showed all the flowers in Tippity's garden, and that's a very cheerful sun in the sky. Art is such great fun, isn't it?"

Everyone agreed that it was.

"Look here," said Uncle Dot. "Why don't all of you sit down and draw or paint with me for a while? I have lots of art supplies. Use whatever you like."

Tippity found some colored pencils, Margaret chose markers and her Mother picked out a few bits of colored chalk. Uncle Dot gave them paper and they all began to draw and paint.



Previous Story Page | See the Artwork

Back to Top

Copyright 1997, 2000 Jerry Jindrich. All rights reserved.