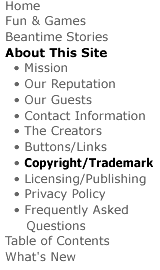 ...
.
...

Please note that the contents of this site (www.meddybemps.com) are protected by U.S. Copyright Law and applicable international agreements.

The name Chateau Meddybemps is now a registered U.S. trademark. We are gradually updating graphics throughout the site.

You are invited to read, enjoy, and share this material with students, friends and loved ones. If you choose to print any of these pages for classroom or personal use, please include the proper copyright notice found at the bottom of each page.

You may not reproduce any of the text or illustrations from this site for any other purpose, on your own or anyone else's Internet site, or in any other media without specific written permission.

Contact Jerry Jindrich

Chateau Meddybemps, P.O. Box 1054, Newburgh, IN 47629

Phone: (812) 853-7693 / Email: bananas@meddybemps.com

Thank You!

© 2015, Jerry Jindrich. All rights reserved.