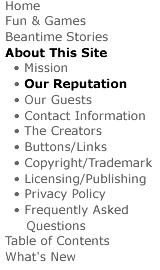 ...
.
...
The activities, stories and other content on Meddybemps.com can be used in countless ways to help young children learn and grow. We offer suggestions, but we know many of you will see wonderful uses for our material that we never imagined.

Since we launched Meddybemps.com in 1995, thousands of sites created links to our home page and/or specific topics on our site. This page contains links to a few current examples.

These links are subject to change over time, as organizations rework their websites or compile new recommendations. We apologize if some linke no longer function when you use them. We update this list periodically.


Educational Institutions, Organizations, and Government Agencies
Resources for Early Childhood
(The Resources for Early Childhood (REC) project is a collaboration between the Ohio Resource Center for Mathematics, Science, and Reading and the Ohio Department of Education's Office of Literacy and Office of Early Learning and School Readiness.)
International Reading Association
Reading Association of ireland (Ireland)
NEA TeachAde Website (Beantime Stories)
NEA TeachAde Website (Learning Activities)
Hershey Early Childhood Center
Davidson Institute for Talent Development
The Family Center on Technology and Disability
Lancashire Grid for Learning (UK)(Beantime Stories Link)
Seminole State College of Florida (Beginners' Resources for ESOL Students)
University of Connecticut
University of North Carolina School of Education
University of Kansas
Utah Education Network
Western Illinois University Center for Best Practices in Early Childhood
Education World
National Literacy and Numeracy Week in New South Wales (Australia)
Graduate Institute of Early Intervention National Taichung University (Taiwan)

Schools
The School District of Philadelphia School District
(Link to Beantime Stories and Learning Activities)
Brockport Central School District
Washington County School District (Link to Rhymes and Reasons)
Cajon Valley Union School District
Manatee County School District (Link to Young Writers Workshop)
Butler County School System
West Covina Unified School District
Anchorage School District (Link to Parents Guide)
Livingston Public Schools
Dunbar Primary (Link to Riddles)
Heathrow Public School (UK)(Beantime Stories Link)
Cologne Academy
McKellar Stewart Kindergarten (Australia)
Welbourne Primary School (UK)(17 links)
Canada Beavers Language School (New Zealand)
Victoria Avenue School (Korea)(17 links)
Carver Center
Lincoln Orchard Mesa Elementary School

Teacher Resources, including English Language and Special Needs
Web English Teacher
The Budget SLP
Jennifer J. Hunter (Speech-Language Pathologist)
Worldwide Speech
The Family Center on Technology and Disability
EverySchool (UK) (Bobby's Busy Bakery - Navigation Skills)
Education World (Missing Letter/Busy Letter)
One Place for Special Needs (Rhymes and Reasons)
EverySchool (UK) (Bobby's Busy Bakery - Navigation Skills)

Homeschooling and Parent Resources
Totally Tots
Honors Review Learning Center
Homeschool Buyers Co-op
Homeschooling Adventures
Parent Concept
Military Family Network
ReadWriteThink
Teachers Network (Parents Guide)
Ben Franklin Elementary (Parent Resources)

Libraries and Library Related
American Library Association Great Web Sites for Kids
Colorado Libraries for Early Literacy
East Baton Rouge Parish Library
Vancouver Island Regional Library
Librarian's Internet Index
Champaign Public Library
Conley School Library (10/21/2011 Blog)
Bethlehem Area Public Library
Internet Public Library
Perth & District Union Public Library (Australia)
Toronto Public Library Kids Space (Canada)
Princeton Public Library
Beaverton Public Library

Publishers
101 Best Web Sites for Elementary Teachers by James Lerman, published by the International Society for Technology in Education, is a guide to online research and learning for grades PK-6. Chateau Meddybemps was named as one of the seven best language arts sites for elementary teachers.
St. Petersburg Times
Baltimore Sun


© 2015, Jerry Jindrich. All rights reserved. Modified 10/02/2020.