A Present for Susan

In the early 1980s our family began to collect Smurf figurines. A little later, we were captivated by large-scale model trains and we bought a starter set made by LGB.

In 1988, I bought some Circus cars to add to our train and it occurred to me that I could build a little circus to go with it which could appear under the tree after Christmas as a gift for Susan. The Smurf characters and other licensed figures could be the circus performers, along with various toy animals.

I photographed the result and published it on this site in 1996, when the World Wide Web was young and computer screens were smaller than they are today. Now, those pictures look pretty tiny. I decided that it was time to reshoot. Also, we've added more figures, animals, and props over the years. These pages give you a fresh look at Le Cirque Bleu. Enjoy!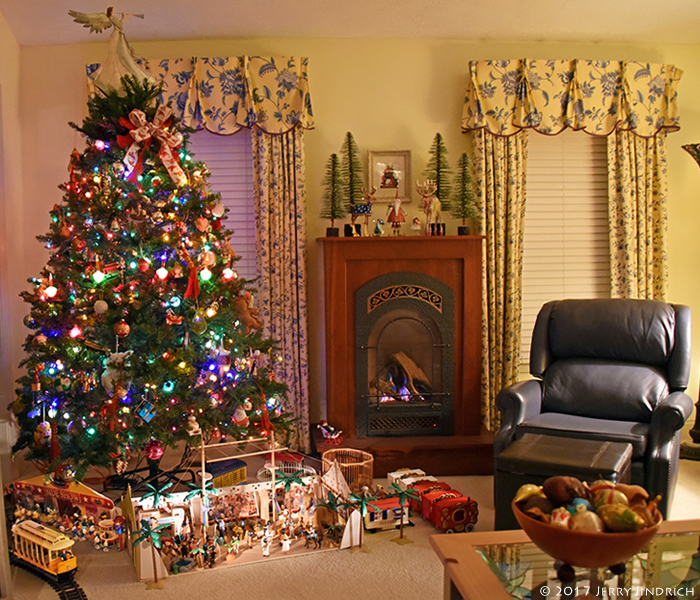 A January evening with Le Cirque Bleu in town.



The End of an Era?

On January 14, 2017 the Ringling Brothers and Barnum & Bailey Circus announced that it would close after 146 years in operation. The high cost of operation plus declining ticket sales (due largely to the end of using elephants in its shows and competition from other forms of entertainment) made it impossible to remain in business.

Increased competition is undeniable and concerns about animal welfare are justified in many cases, which is unforunate. A better understanding of the lives and needs of various animals has led to demands for better treatment. This in turn led to calls for elephants to be removed from circuses and orcas to be removed from aquatic shows. Even zoos with inadequate facilities have given up their elephants.

There was a time when a circus was magical, especially for children. Clowns were silly and not the stuff of nightmares. Elephants were awesome to behold. Lions and tigers were thrilling. Acrobats were graceful and daring. Being part of a crowd was fun. Popcorn and candy were big treats. And the show went on and on for hours.





I make no apology for putting on a circus with a handful of children's toys. The circus was a magical childhood event for me when I was eight or nine years old. It was for our children when they were young. I agree with concerns about the welfare of animals, wild, domesticated, and even housepets. Today's children will never see anything like the grand circus performances of years ago.You can still find a smaller circus here and there, but the elephants are being sent to sanctuaries and it may not be long before the other awesome creatures that made the shows so exciting are gone as well.

Children need opportunities to imagine and create to help them learn to think and dream. Inventing circus acts is fun. There are no rules. And no animals will be harmed.

Build your own circus

Le Cirque Bleu is a circus of the mind, where children (and grown-ups) can pretend to "put on a show" with a handful of toys and a bit of imagination. The Build a Circus page will show you how to make your own big top and side show "tents". The Circus Acts pages will give you lots of ideas for inventing your own fascinating performances. What are you waiting for?

Add posters

For a little extra fun, create posters or other promotional materials. I designed these in 1988, 1990, and 1991, using early graphios software and a color copier. You could do even more today.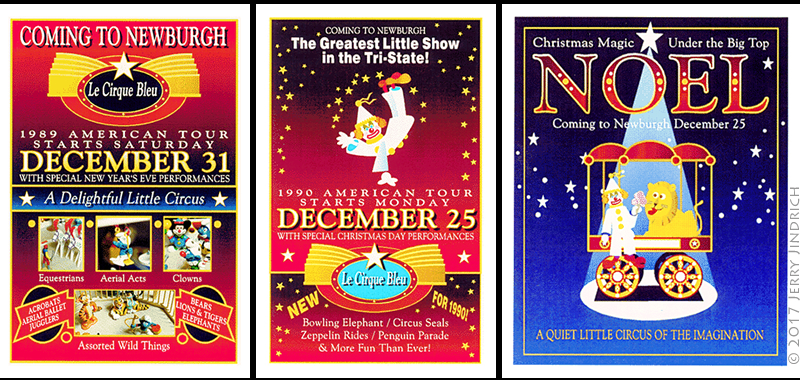 Don't forget name tags and guest passes

Also in 1988, I made a name tag to slip into a holder and several copies of a guest pass for Susan. Little details add magic.