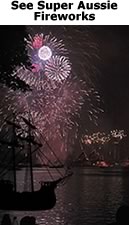 Join the Three Pumpkin Pirates at a great fireworks show in Sydney Harbor. It was really New Year's Eve, but you can pretend it was the Fourth of july.









Our riddles give clues about 20 different animals. Can you guess them all?






It's summer. Go outside. Become a young naturalist. Observe nature in your neighborhood. Make notes and add drawings or photos. It's science and it's fun!.




If you gave some hats away, would you have fewer hats or less hats? Enjoy our little grammar quiz.







Click on the red engine to count and match fire engines or discuss fire house dogs. Click on the piece below to try a fire engine puzzle.





...
.
...



Frogwart's patient pet spider will show you how to make each letter of the alphabet as often as you like.





Enjoy these playful activities:
Pick pets

Arange flowers

Try on costumes

Decorate Cakes

Make pizzas






See how animals use protective coloration in different ways. Pick the best examples from six sets of choices.





...
.
...




Have fun with fruits, vegetables, colors and baby crocodiles.






Ride a wave with Itsy Bitsy Spider. Discover what else happened when the cow jumped over the moon. Enjoy 3 different age-appropriate versions of six classic rhymes.









Encourage creativity by having your child dictate or write endings for our Story Starters.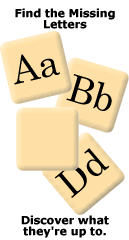 Which letter is missing? Where did it go? It is busy making words. Can you find it? Can you read the words? This is a challenging and rewarding activity for beginning readers.