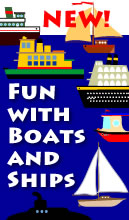 Explore ten different topics on boats and ships: from Tall Ships to The River of Doom, a Cargo Quiz to Ships in Bottles, and much more. Lots of great content for grades 1 to 3.










Our riddles give clues about 20 different animals. Can you guess them all?






It's summer. Go outside. Become a young naturalist. Observe nature in your neighborhood. Make notes and add drawings or photos. It's science and it's fun!.





Combine front ends and back ends to make six "normal" vehicles (or thirty strange and silly ones).





...
.
...


Understanding spatial concepts is much easier with a little help from our collection of critters. There are even some animals to print and move around the house.









Be creative now! Draw and paint right on the screen with a bit of magic from Tippity Witchet.






Games, a puzzle, videos, lore, a miniature village, and much more for people who like trains.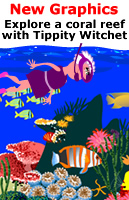 Helping Tippity move across the reef has always been fun. New artwork makes the trip fascinating!





...
.
...
A Rainbow of Frogs now has bigger and better images and a new page of interactive content, too. See why it's a favorite resource about color.







Play with toys, operate a holiday light show, and dive in a mini-sub with extraordinary inventor Weebit Cuckoo.


Fall is coming. Enjoy interactive sorting, matching, mulching, jumping and more!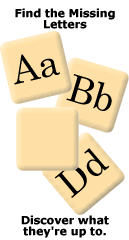 Which letter is missing? Where did it go? It is busy making words. Can you find it? Can you read the words? This is a challenging and rewarding activity for beginning readers.