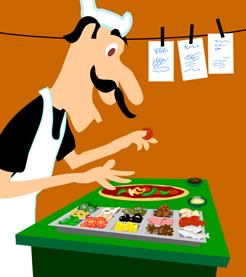 Pepper asks customers what size pizza they want and what toppings they would like on it. She writes their order on slips of paper for Peter. Peter hangs the slips where he can see them and starts putting toppings on the pizzas. When he's finished, he will put the pizzas in the oven to bake.

Click on one of the order slips that you would like to prepare. Then you will see your pizza and a tray full of toppings. Have fun and thanks for helping!

When Frogwart orders a pizza, she asks Pepper and Peter to use some unusual toppings. Go to Order 10 and see if you would like Frogwart's Special Toppings on your pizza.