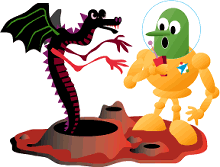 ...
.
...
Bean Me Up, Scotty!

James T. "Get A Life!" Quirk, Captain of the Starship Beanterprise, gets into more trouble than a barrel of Klingons. If you spot him, stand clear. If the Trekkies don't carry him off, something from outer space will.





Copyright 1995, 1997, 2000 Jerry Jindrich.

All rights reserved.