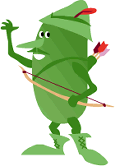 ...
.
...
Robean Hood

Mall Security is constantly on the lookout for this clever character. Wrongly accused of being a common shoplifter, Robean (not his real name) is actually a famous behavioral psychologist who specializes in turning gangs of thugs into merry men.





Copyright 1995, 1997, 2000 Jerry Jindrich.

All rights reserved.