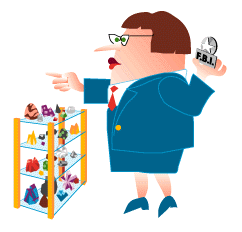 ...
.
...
Ima Fulla Beanz

Ima is a hearing-impaired F. Bean I. agent who has a running argument with Daniel Beane, frontiersman, amateur geologist, and manager of the Nature's Company Store and Taxidermy Emporium. Daniel has a collection of small igneous rocks in his display case which Ms. Beanz wants to seize. She insists that there is a ban on bassalt triffles.





Copyright 1995, 1997, 2000 Jerry Jindrich.

All rights reserved.