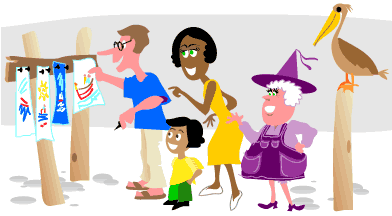 Each piece was different. Everyone had seen the same things: a boat, fishermen, the sea and sky and sun. But each person drew or painted those things in his or her own way.

"Delightful!" said Tippity. "They're all very interesting."

"This was great fun!" said Margaret's Mother.

"See? You are all artists!" said Uncle Dot.

"Yes, we are," said Margaret, proudly. She held her Mother's hand. "Yes, we are."

And so, from that day on, Margaret and her Mother enjoyed drawing and painting and all kinds of art. They didn't care if others thought their work was "good" or not because they knew that didn't matter at all.

The End (But there's more...)


To look at larger pictures one at a time, click on the images below:


To see photographs of what they all saw, click here.



Previous Story Page | Meet the Real Uncle Dot

Back to Top

Copyright 1997, 2000 Jerry Jindrich. All rights reserved.