Our grandchildren spend countless hours playing with Brio(TM) and Thomas & Friends(TM) wooden trains. And we, like many other parents and grandparents, bought several of the excellent railroad accessory structures that these companies offer. They are sturdy and long-lasting, but they are also expensive. Their cost keeps most of us from purchasing more than just a few.

While researching the history of toymaking, we noticed that paper cutouts have always been a popular and inexpensive way to build toys. So, we thought, why not design some little buildings children could use with their wooden trains? And, since today's ink-jet printers can produce high-quality color prints on sturdy paper, why not create downloadable files so people can print and build their own?

And, of course, why not give them a touch of Jerry's creative magic?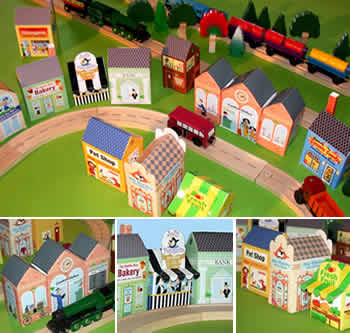 So we created the Meddybemps Miniature Village. This cheerful collection features types of buildings and businesses that children will recognize and play with. Details on each structure give parents, siblings and teachers opportunities to casually engage young children in discussions of life in their town. Simple environmental print will help with pre-reading skills. Some buildings will include nursery rhymes. Others will appear in stories on this website.


Click on the photos above to see larger images. Click on the small station photo to see it with the new platform. Our newest buildings, including Christmas Market Stalls and an engine shed whose doors can be set in an open or closed position, are not pictured.

Each building is presented as a pdf file and will print out on one (or sometimes more) 8.5 by 11 inch sheets of paper. Premium heavy weight (68 lb) glossy photo paper is best, but 24 lb plain paper will do and is good for making a practice building or two.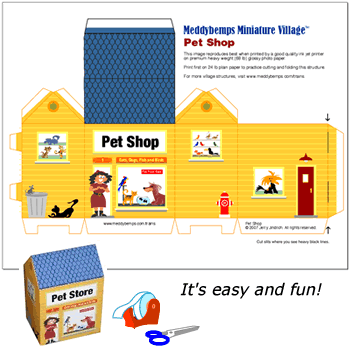 Simply follow outlines to cut the building out, then fold flaps and corners to see how it fits together. Use household tape to hold it together. After a couple of practice buildings, you'll find an assembly method that works best for you. We've prepared a pdf Construction Guide to show you how we assemble them.

Copyright 2009 Jerry Jindrich. All rights reserved.
.
.
...
New! Here's a special group of cottages for Halloween. Click on the picture to learn more.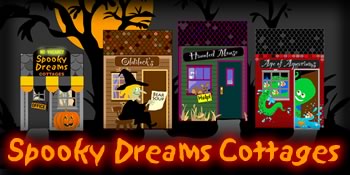 Below are the first seventeen structures for you to print and build plus a few little extras. Click on a building to open its pdf file.



There are also five Christmas Market Stalls we premiered in December along with links to German sites describing that country's famous Christmas Markets.


Back to Fun with Trains.




A word of caution: We recommend that you keep ink jet and laser prints out of the hands of infants and very small children. There are no warnings on the ink cartridges we use, but inks and toners are made from a variety of chemicals that may not be good for children to get into their mouths.