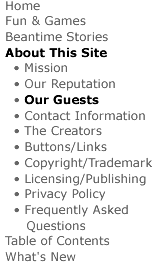 ...
.
...

Thanks to you, this site is TWENTY-FIVE years old! Some of our first young visitors could be parents by now. We wonder how many parents who enjoyed the site as children are sharing Meddybemps.com with their own children. Are you? Let us know.

Meddybemps.com was launched on October 31, 1995 with a little imagination and skill and a desire to produce something of value for children and their parents and teachers. Gradually, one person has told another about our site. One children's site recommended us and then another. Then education sites, parenting sites, libraries and Internet service providers began to recommend us to their visitors.

Close to six thousand sites around the world have established links to Chateau Meddybemps. We've been the subject of newspaper and magazine articles and have been mentioned in several books. 101 Best Web Sites for Elementary Teachers named Chateau Meddybemps one of the seven best language Arts site on the World Wide Web. Our site was even named the third best site for children on the Internet for helping them learn phonics by reviewers for ReadingOnline.org, the site of the International Reading Association.

In a single month, we've enjoyed as many as 264,000 visits to our site from over 195,000 unique visitors who viewed 1,866,000 pages! Wow!

And we're amazed!

Most vistors come from the United States and Canada. Many come from Australia, New Zealand, The United Kingdom and other places where English is commonly spoken. This alone makes us very happy. But look at the list below. Parents and children from around the world are enjoying our stories and learning activities. We are delighted, of course, but still amazed that it is even possible.

Visitors to the Island of Meddybemps come from around the world.

We've entertained guests from all of these fascinating places:

American Samoa, Andorra, Antarctica, Antigua, Argentina, Armenia, Aruba, Ascension Island, Australia, Austria, Bahamas, Bahrain, Barbados, Belarus, Belize, Belgium, Bermuda, Bhutan, Bolivia, Bosnia Herzegovina, Botswana, Brazil, Brunei, Bulgaria, Burkina Faso, Cambodia, Canada, Cayman Islands, Chile, China, Christmas Island, Cocos Islands, Colombia, Cook Islands, Costa Rica, Cote d'Ivoire, Croatia, Cuba, Cyprus, Czech Republic, Denmark, Dominica, Dominican Republic, Ecuador, Egypt, El Salvador, Eritrea, Estonia, Ethiopia, Faroe Island, Fiji, Finland, Former USSR, France, French Guiana, French Polynesia, Georgia, Germany, Ghana, Gibraltar, Great Britain, Greece, Greenland, Guam, Guatamala, Guyana, Honduras, Hong Kong, Hungary, Iceland, India, Indonesia, Ireland, Israel, Italy, Ivory Coast, Jamaica, Japan, Jordan, Kazakhstan, Kenya, Kuwait, Kyrgyzstan, Latvia, Lebanon, Lesotho, Liechtenstein, Lithuania, Luxembourg, Macau, Macedonia, Malaysia, Maldives, Malta, Mauritius, Mexico, Micronesia, Moldova, Mongolia, Montserrat, Morocco, Mozambique, Namibia, Nepal, Netherlands, Netherlands Antilles, New Caledonia, New Zealand, Nicaragua, Niue, Norway, Oman, Pakistan, Palau, Papua New Guinea, Paraguay, Peru, Philippines, Poland, Portugal, Qatar, Romania, Russian Federation, Rwanda, Saint Helena, Saint Kitts and Nevis, Saint Lucia, Samoa, San Marino, Saudi Arabia, Seychelles, Singapore, Slovak Republic, Slovenia, Solomon Islands, South Africa, South Korea, Spain, Sri Lanka, Syria, Swaziland, Sweden, Switzerland, Taiwan, Tanzania, Thailand, Togo, Tonga, Trinidad & Tobago, Turkey, Turkmenistan, Turks and Caicos Islands, Tuvalu, Ukraine, United Arab Emirates, United Kingdom, United States, Uruguay, Vanuatu, Vatican City, Venezuela, Vietnam, Virgin Islands (US), Yemen, Yugoslavia, Zambia, and Zimbabwe.

Thank you for visiting Chateau Meddybemps!
© 2020, Jerry Jindrich. All rights reserved. Revised 10/02/2020.